SOF
i

E - Safe Online File Exchange

It is our pleasure to present you our SAFE SOLUTION with an above-standard security level – SOFiE – an application to exchange files of any size and type. We offer you a reliable solution with high security for receiving and sending files both inside a company and outside for communicating with other entities. SOFiE will significantly increase the protection to a level very difficult to achieve when using other file exchange solutions, like e-mail or FTP server for example. Simply put, SOFiE is the most secure way to exchange confidential information online.
Example of the SOFiE application usage inside a company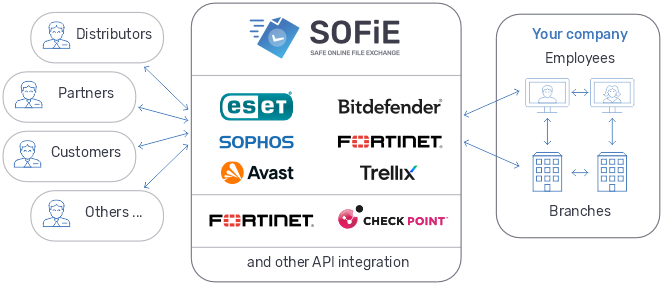 The application supports GDPR
SOFiE stores audit logs of all activities, including user log in, log out, file upload, file download and others.

Compliant with NÚKIB recommendations
SOFiE includes security technologies and processes that help fulfill the recommendations for administrators.